Programme Strands
The highest achievement in the Survive & Save Programme is the Distinction Award, which is awarded to those who achieve 3 Gold Level awards within a 24-month period.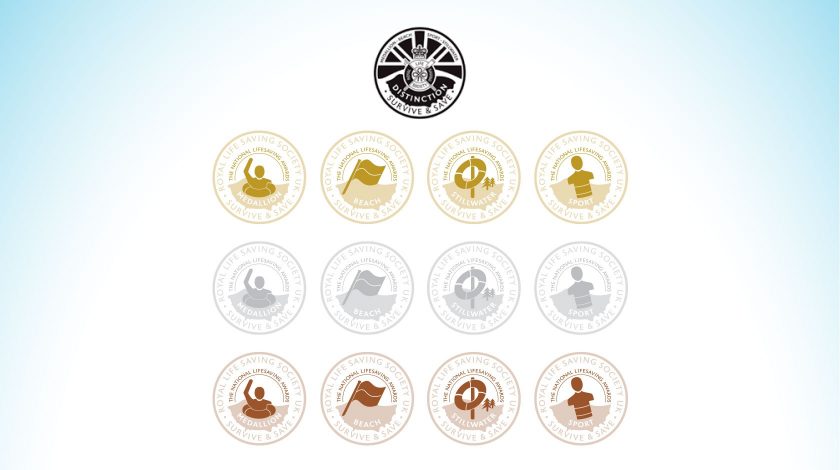 The Medallion Awards
Challenge your skills and knowledge in all areas of survival, rescue, and fitness with this pool based award which include elements of the Beach, Stillwater, and Sport awards. This ensures that by the time you have completed the Gold Medallion, you will have been comprehensively trained in lifesaving.
The Beach Awards
The beach environment is one of the toughest environments to perform lifesaving skills, due to changeable conditions on the beach and a number of dangers that are unique to the coast, such as rip currents and waves. These awards develop your skills in coping with these challenges by equipping you to identify the dangers and perform lifesaving skills in difficult conditions.
The Stillwater Awards
Provides the unique challenge of lifesaving in lakes and prepares you to use your skills at any type of inland water body, such as lakes, rivers, and canals, which are the most common places that lifesaving rescues are needed. Inland water bodies can be incredibly dangerous due to the fast flowing water and wide range of hazards such as fallen trees and big rocks, so these awards are crucial to understanding what to do in an emergency.
The Sports Awards
Lifesaving Sport is a unique and challenging sport, because it combines competitive swimming skills with modified rescue skills from the world of lifesaving and lifeguarding. Whilst taking the Lifesaving Sport Awards you will also develop real lifesaving skills so you will know what you do if a real-life emergency happens near you.
For more information and availability, please click on the contact form button below: